Purple53 was a very successful art project, but ended mid 2009.
Please contact me by email, angel [at] angelhess.com



Angel Hess is now working on his new exciting project: Arts To Peace.

Please visit the new website at: artstopeace.com.

>>Take P53 Survey
Angel Hess is an eccentric artist living on the edge of the world and society. From a young age always creative from gem cutting to fine art photography, and visual design. My photography can be seen at angelhess.com
Any controversial person, anyone who tries to accomplish something on this earth will be hated. Look at Jesus; people put him up on a cross! The people that make the bad comments about me further illustrate why I would not want to be like everyone else. People are so prideful about themselves and their money, they are probably the same ones who tra-la-la going to work and coming home while millions of dollars are spent every day on crap like war. I am a brave beautiful soul and I am loved. Happiness does spread through social networks. Everyday interactions we have with other people are defiantly contagious in terms of happiness. What is interesting is not that your happiness depends on your family and your friends but your happiness depends on the family and friends of their family and friends.
The idea of Purple53 is to own a home in America. For those of us who have small incomes, it's just about impossible, especially when living in a gentrified area, an expensive area for nothing or close to nothing. Artists create communities and then bureaucracy comes in and forces those artists to leave. What Purple53 is doing
is sticking it out until we can't stay. This part depends on like-minded people who are willing to except our presence and give to the residency.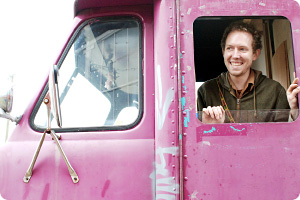 Angel Hess faced this dilemma and so began looking for alternatives; none of them entirely conventional. He looked into everything from military vehicles and train cars to cargo box containers, and even hitch-up trailer homes. There were many possibilities out there, but this one antique purple 1953 Ford bread truck caught his eye and he knew it was meant for him.
In 2006 he bought and drove Purple53 across America, starting in Arcata/McKinleyville, California. During this enormous journey he started building a house inside Purple53. During the road trip he took two long pit stops in Arizona and Arkansas. Top speed is about 50mph but going over mountains average speed was 10mph to 20mph and gas miles per gallon is about 10. The final stop was New York City in October 2006 but ended up living in Williamsburg Brooklyn because its a safe and artistic neighborhood with a lot of parking.
After living in Purple53 in Brooklyn New York for nearly two years Angel began the second journey across America in a completely different way. At first he did not know how well it was going to turn out but after a while he started finding out new ways to meet really interesting people by visiting families, farms, ranches, even wildlife rescues. This is now one of the main goals, finding really great people, farms, and families to visit. Tuesday April 15th 2008 Angel arrived once again in California, making it across America for the second time in Purple53.
The previous owners of the truck named it Beast but never went into great detail about the history of the truck except that a family member was converting it into a motor home, and work on it had been suspended because of a death within the family. After that, they were holding onto it for sentimentality. It used to be the County of San Mateo California Police Emergency Communications Vehicle and was purchased from them in 1999. When the family was ready to move on emotionally, Angel was able to put his plans into action. He flew out to the northern most tip of California and his adventure began.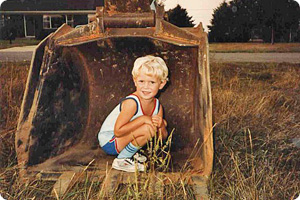 It seemed the inevitable destiny of this vehicle to become a motor home. In Angel's case, a live/work/cook station that will give him the ability to expand his client base as a photographer and artist. As Angel also loves cooking and baking, the truck will be outfitted with a full kitchen.
Maybe it will serve as a gourmet restaurant on wheels!
With solar panels for energy, cork sound-barriers, a water purifier, and water conserving wash-room, it will be as accommodating and self-sufficient as possible. He views this project as a lasting investment for him.
In the beginning it was true that friends and family across the country shook their heads at his decision, but once they saw his determination, they have been supportive and helpful. So far, Angel has found this to be an enriching experience and hopes for continued success in this endeavor. However, he is only person attempting something completely new. If you have any resource to contribute don't hesitate to contact him.